In 2010, the University of Tennessee (UT) Extension launched a strategic planning process to honor the past and look to the future. The charge was to prepare to meet new challenges and opportunities while continuing to provide solutions for local issues. Our challenge is captured in the Jim Collins (2009) quote from the book How the Mighty Fall: And Why Some Companies Never Give In: "Enduring great organizations are characterized by a fundamental duality. On the one hand, they have a set of timeless core values and core reason for being that remain constant over long periods of time. On the other hand, they have a relentless drive for change and progress…"
The previous UT Extension Strategic Plan, covering the period of 2000-2010, provided a firm foundation on which to build. However, the world of 2010 was vastly different than the world of 2000. In Tennessee, shifts in funding, economic decline, a smaller workforce, changing demographics, and advancing technology created challenges that had to be addressed for UT Extension to remain relevant and viable in the future. This situation created the need for a new strategic plan to provide a road map to guide us in achieving excellence and focusing our attention on what matters most: Advancing Tennessee. Below, we have described the process for constructing a UT Extension Strategic Plan to create the future our state needs, wants, and expects.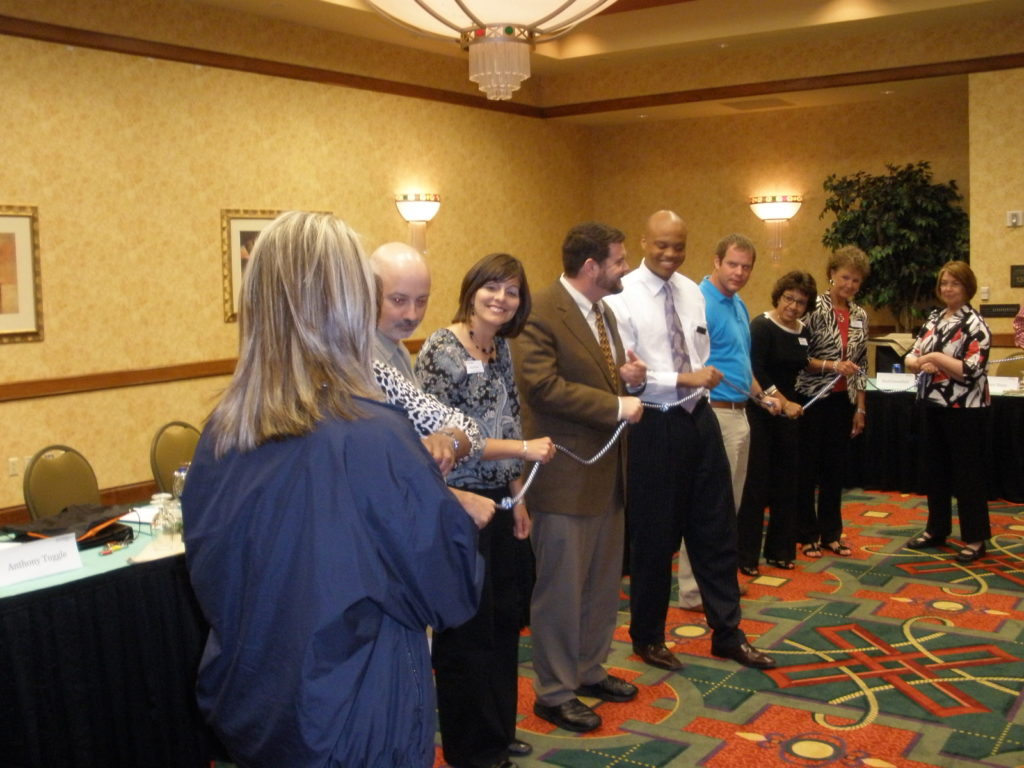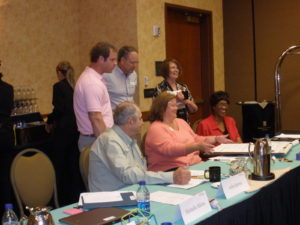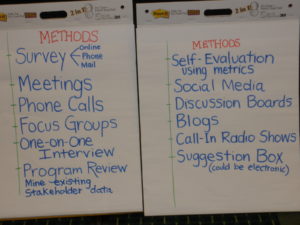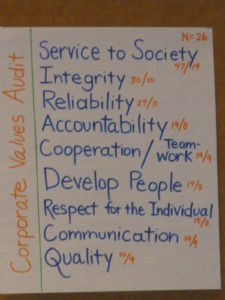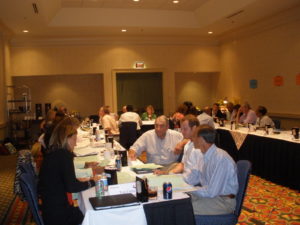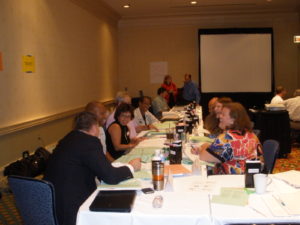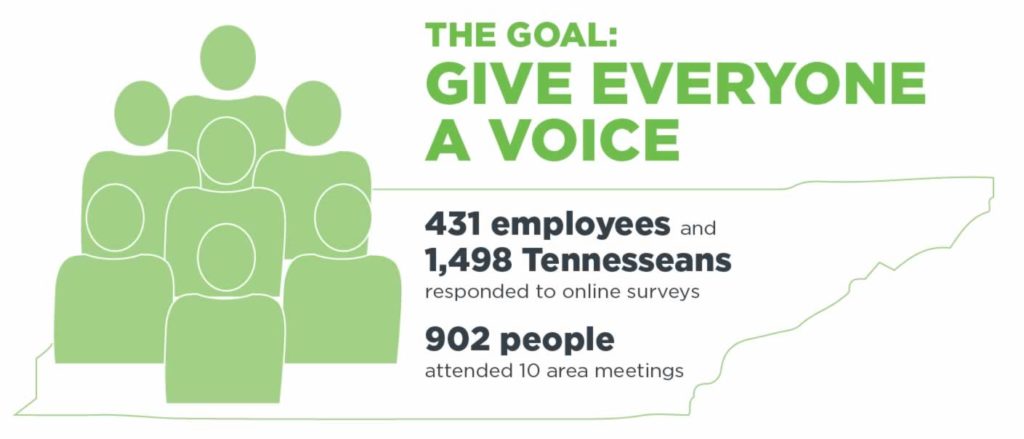 Involvement
The planning process was guided by a diverse leadership team representing a cross-section of employees from across the state and was instrumental in collecting and analyzing data to inform the strategic plan. As a part of the process, the group sought opinions from many Tennesseans, including employees, decision makers, clientele, partners, and volunteers. The goal was to involve as many people as possible, representing stakeholders, employees, and the general public, to identify issues affecting Tennessee residents in local communities.
Area Meetings
Ten area meetings involved 902 people, and these meetings were held at various locations across the state. These meetings were attended by both employees and stakeholders. All employees were invited to attend an area meeting, with approximately ten to twelve counties participating per meeting. One meeting was held on the campus of the University of Tennessee, Knoxville, to accommodate faculty and staff assigned to departments and centers on campus. County personnel were asked to select five stakeholders to represent their county at the area meeting.
The area meetings began with an overview of the strategic planning process and goals through an eight-minute video featuring the dean/director of UT Extension and the strategic planning co-chairs.
Next, the stakeholders and employees met in separate rooms at the same meeting location. This was done to facilitate open and honest discussions on the part of both stakeholders and employees. Opinion polling was used through "clickers" or audience response systems. The opinion polling questions were drawn from the most frequent employee survey responses. Many of those survey questions were open-ended, so opinion polling provided a way to further explore and rank the feedback.
Online Surveys
Employee Online Survey – In addition, 413 employees and 1,498 Tennesseans provided their insights regarding Extension's future through online surveys. The goal was to give everyone a voice.
The results were analyzed for themes, and the most frequent responses (themes) were listed on a summary fact sheet that was posted at the strategic plan website. Example questions included:
What Extension educational programs do you anticipate will have the highest priority in the next five years?
Please name one or two criteria that should be used to determine staffing allocations.
What is one UT Extension rule/policy that is a barrier to performing your job?
General Public Online Survey – An online questionnaire was available to every person contacted by UT Extension personnel over a twenty-six-day period in July and August 2010. The overall aim of the study, developed by the Strategic Planning Leadership Team, was to understand UT Extension stakeholders' needs and viewpoints relative to strategic issues. Major constructs were:
Benefits/usefulness/relevance of UT Extension;
Organizational changes;
Learning preferences;
Community changes/trends; and
Involvement.
An instrument was developed to address the major constructs. The instrument was validated for face and content validity by the twenty-two members of the state Extension Strategic Planning Team. A pilot group of twenty students in graduate educational psychology classes at the University of Tennessee was selected. The pilot group completed the survey, and internal consistency reliability was calculated for the relevance/usefulness scale. Cronbach's alpha coefficient was calculated at .83 for the scale's 15 items.
From July 12 through August 6, 2010, invitations to complete the questionnaire were given to every person contacted by Extension. This included, but was not limited to, every person who attended an Extension meeting; visited the Extension Office; received an on-site visit from Extension; or received an Extension newsletter (whether email or paper). An invitation to the survey was also posted on the UT Extension website. While this was an online questionnaire, individuals without reliable Internet access were provided a paper version. Questionnaires were submitted by 1,596 individuals of the 2,508 who accessed the questionnaire for a response rate of 63.6 percent.
Focus Groups
To maintain and strengthen partnerships with individuals, agencies, and organizations across the state, the Strategic Planning Leadership Team conducted focus groups with state-level stakeholders. These twenty-four individuals represented either statewide organizations or departments of state government; three focus group sessions were held at a central location with the same script/protocol used for each session.
The session included a brief summary of the draft strategic plan, followed by facilitated focus group sessions to allow participants to share their opinions about the plan. All participants were provided hard copies of the draft plan for their reference and discussion. The sessions took approximately two hours, and each session included one moderator and one note taker to accurately record opinions. All comments and feedback were confidential.
Retreats
Two-day and three-day Leadership Team retreats were used to develop overall timelines and make plans for data collection, including drafting instruments, analyzing data, and discussing trends. In addition, the following techniques worked well for both planning purposes and leadership development:
Presentations were held with three doctoral candidates who were completing studies of the Tennessee Extension workforce. The three studies were in the areas of county-level leadership, performance appraisal, and work-life balance. The data from these studies was triangulated to the existing data collected for the strategic plan to add weight and validity to the findings. For example, the need for a stronger county director training system was identified in all of the graduate studies and the various strategic plan data collections.
Team members selected one of four books to read and discuss with at least four other team members. The groups shared book reports with the entire leadership team to build our capacity for understanding contemporary thought in strategic planning and organizational change. The four books were:

Kotter, John P. Leading Change. Business School Press, Boston, Massachusetts. 1996.
Kim, W. Chan and Renee Mauborgne. Blue Ocean Strategy: How to Create Uncontested Market Space and Make the Competition Irrelevant. Harvard Business School Publishing, Boston, Massachusetts. 2005.
Kotter, John P. A. Sense of Urgency. Harvard Business School Press, Boston, Massachusetts. 2008.
Collins, Jim. How the Mighty Fall, and Why Some Companies Give In. HarperCollins Publishers, Inc., New York, New York. 2009.
Website
Throughout the entire planning process, a website was used to inform employees, stakeholders, and the general public about the planning effort. The site featured an overview of strategic planning, including our purpose; updates; timeline; area meetings; leadership team contact information; and frequently asked questions. The website was updated throughout the planning process with news and events.
The initial strategic plan draft was posted for public review and comment using an "online suggestion box," which was a survey within Google Docs. Substantive suggestions were not received. This was an indication of the size and scope of the employee and stakeholder involvement and an indication that the plan was responsive to their input.
Program Evaluation and Review Technique
The Implementation Retreat was held after the initial Strategic Plan launch. This retreat was conducted over two and a half days and consisted of the key Extension administrators. It had the following purposes:
Develop an implementation timeline.
Prioritize initiatives and confirm milestones.
Develop sequence of initiatives and determine connections.
Determine talent, people, and groups needed for implementation.
Develop an esprit de corps of the team and build commitment to implementation as a priority.
The major products produced were Program Evaluation and Review Technique (PERT) charts detailing implementation specifics, such as start dates, end dates, and coordination between and among different initiatives in the Strategic Plan. PERT charts have had a long history as a project management and organizational development tool. PERT was originally developed by the United States Navy Polaris project and used extensively by NASA. The major benefit to the technique is that it is easy to see relationships between activities; it shows tasks that can be performed in parallel. Steps in using PERT are:
Identify the specific activities and milestones.
Determine sequence.
Construct a network diagram.
Estimate time required for each activity.
Determine critical path.
Update PERT chart as the project progresses.

The trends from each of the data collection methods were analyzed to determine if any common themes emerged. This analysis elicited six trends that will shape Tennessee over the next ten years. The trends were described as:
Increasing urbanization, including a loss of farmland.
Advancing technology in all aspects of our lives.
Rising rate of obesity for adults and children.
Increasing population and diversity.
Declining economy, including job loss.
Increasing concern for environmental sustainability.
The plan includes five overarching goals with action steps. The goals are:
This strategic planning process brought many benefits to the organization including a greater capacity to change and support for the individual initiatives within the plan. The major implication for the broader Cooperative Extension System shown by the Tennessee experience is that the strategic planning process itself produces outcomes. These outcomes included:
Professional Development – As with most extensive planning efforts, the process provided much instruction and "food for thought." Many Extension personnel noticed that while all of the data collected was valuable, the focus group results connected with emotions, attitudes, and perspectives in ways that cannot be achieved with surveys. Likewise, Extension personnel were intrigued with the usefulness of the audience response system. Extension personnel saw both as highly valuable techniques for ongoing planning and education. This realization cultivated questions, interest, and discussion among Extension personnel as to how to use focus groups and audience response systems. While not mentioned specifically in the strategic plan itself, in-service training was conducted in both areas, an unintended outcome of the process.
Awareness – The strategic planning process created greater interest in Extension and awareness of Extension among stakeholders at the community, University, and state government levels. In some instances, leaders of state government departments and statewide organizations were motivated to ask, "What can we do for Extension?" Our typical answer was to tell them to inform others about the planning process and direct them to our offices and website. In hindsight, a more specific answer about securing funding or serving on advisory committees would have also been more helpful to the Extension organization.
Ongoing Strategy Development – We have observed numerous UT Extension administrators and middle managers considering multiple options for a given issue and asking, "Which option is the most consistent with our organization's strategic plan?"
These three major outcomes – professional development, awareness, and ongoing strategy development – have implications for Cooperative Extension organizations. The realization that the strategic planning process itself produces outcomes and attention to these outcomes at the beginning of a strategic planning effort could help Extension organizations enhance their strategic planning efforts.
A white paper detailing the Strategic Planning Process was authored by Joseph L. Donaldson and Shirley Hastings. Read the full report here.
Michele Atkins, County Director, Henry County
John Bartee, County Director, Montgomery County
Gary Bates, Professor, Plant Sciences
Kelli Bottoms, County Director, Cumberland County
Lynn Brookins, Program Leader, Western Region
Matt Devereaux, Associate Professor, Family and Consumer Sciences
Brad Greenfield, Extension Agent, Dickson County
Connie Heiskell, Regional Director, Eastern Region
Cristina Martinez, Senior IT Technologist, Central Region
Tyrone Miller, Assistant Professor, Tennessee State University
Betty Neilson, Extension Agent, Henderson County
Milton Orr, County Director, Greene County
Emily Osterhaus, Extension Agent, Bedford County
Alice Rhea, Area Specialist, Eastern Region
Nancy Rucker, County Director, Cheatham County
Thelma Sanders-Hunter, Associate Professor, Tennessee State University
Jim Stewart, Program Leader, Central Region
Anthony Tuggle, County Director, Rutherford County
Glenn Turner, Extension Agent, Sevier County
Amy Williams, Extension Specialist, 4-H Youth Development
Co-Chairs
Joseph Donaldson
Extension Specialist
Extension Evaluation & Staff Development
Shirley Hastings
Associate Dean
UT Extension